Analyze increased size Profile pic
Instagram Profile Photo Download
If you're like most people, you probably have a plenty of important photos and videos on IG account. But what would be in case something occurred to your account or, worse, content will be deleted by moderators for some reason?
Thanks to MollyGram, there's now an easy way to save all content, so you can keep them safe.
In addition, it often happens, that you want to view Insta profile photo in more detail and on the full screen or to save this. However, when you click on this icon, the app does not allow you to do it directly. Again, you can do it using our Instagram viewer profile.
Why you should download Instagram profile pic
Instagram is a fantastic platform for sharing photo or video with your friends, but it's also a valuable source of memories.
That's why it's important to download content:
Imagine that you will want to view images offline any time you want or send something to your buddies via messenger, you would lose all of those pleasant moments.
Having a copy of Instagram DP allows you always being able to remember what you looked like on this social network. And if you ever decide to delete the app, you'll still have the main photo to look back on.
Besides, saving stories regularly is also a nice idea, just in case in the future you will want to make a video in the likeness of cuts from your life.
So, why not Instagram profile picture download today? It only takes a few seconds, and it could save you a lot of heartache down the road.

What is MollyGram and how does it work
MollyGram is a free web-based service that allows you to download profile Instagram in large size in just a few simple steps:
First, open IG app copy profile URL.
Then go to the browser and write username or person you need in the search bar or paste the link.
Then select Instagram profile picture in full size you want to save.
Click the Download button, and you will instantly receive it.
The best part about the website is that it doesn't just download content, it also archives it, so you can access it anytime, anywhere. Whether you're worried about losing your data or simply want a backup copy of photos and videos, our platform is the perfect solution.
So don't wait, start saving today!
What to do if something happens to your Instagram account
You can try to do these things:
Recover the profile by following the instructions on the Instagram site.
Create a new user and transfer old followers and posts to the new one. You will need to save data. Once you have downloaded it, you can then create an account and upload the data to it. This allows you to keep subscribers and publications, as well as all of your photos and videos.
If you are unable to recover account or transfer information, you can still download content in original quality from Insta. For this, you will need to use a third-party service such as MollyGram. You can save files to your phone to camera roll or another device for safekeeping.
If you want to delete your profile permanently, you can do it on IG web page. Keep in mind that once you delete a profile, you will not be able to recover it or transfer info to another account.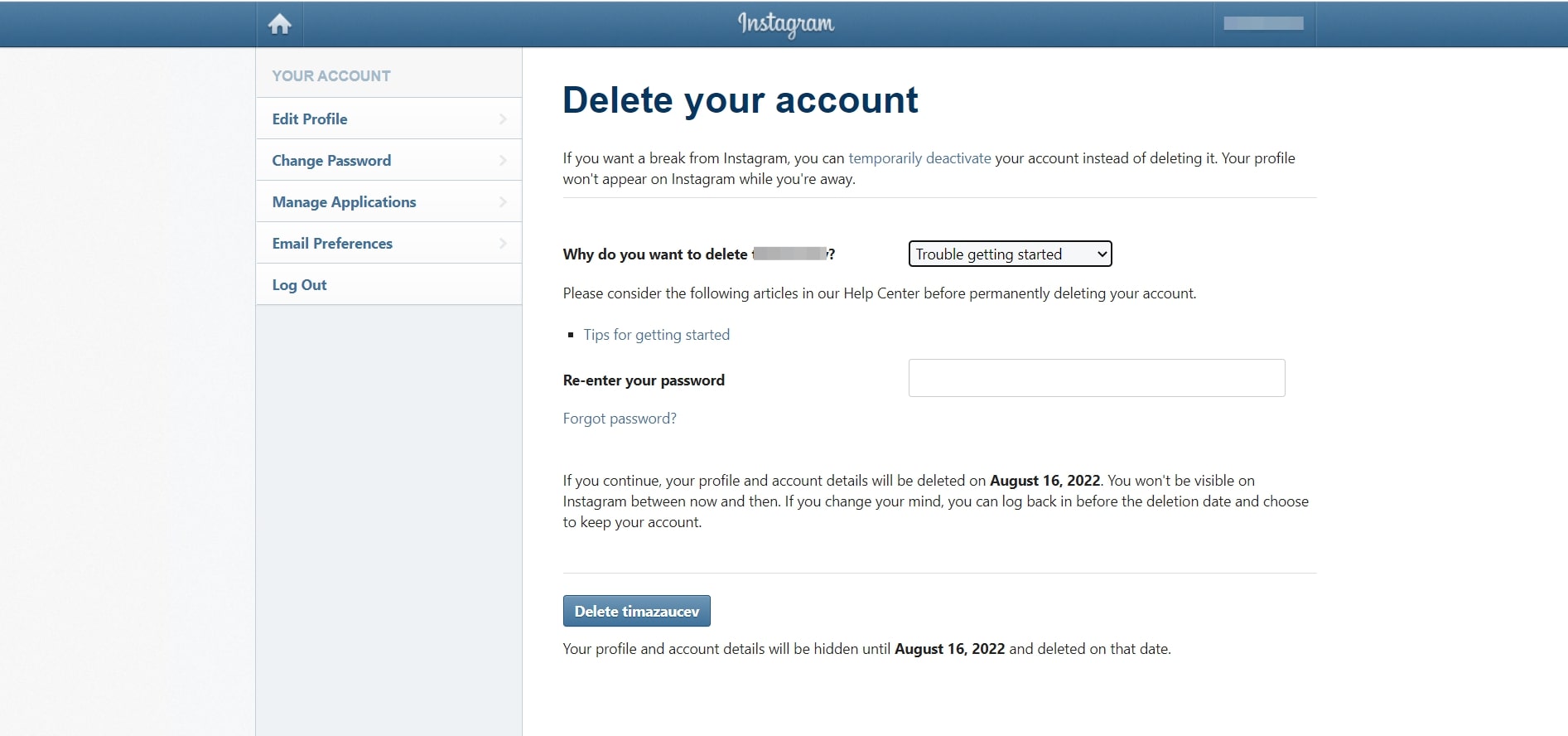 Terms and Condition
This page serves to be informative, and it is based on material that is freely accessible. There is no any right to photos or videos on this website that you can download and use, so all the copyright and trademark rights belong to respected users. Meta Inc. is the sole owner of all rights to Instagram logos, trademarks, and copyrights.